What is the Entry Sensor:
Detects when connection between two surfaces, like doors, cabinets or windows, has been opened and helps keep caregivers updated via the App.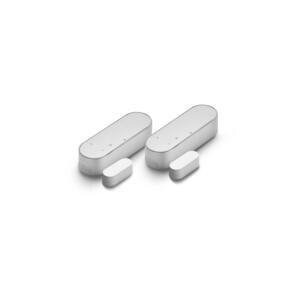 Product Information
Install Help
Your Entry Sensor detects the opening and closing of entryways within the home.
Placement
You can set up the Entry Sensor on either a hinged door or a sliding door
Place the sensor element on the doorframe and the magnet on the door.
Make sure the two pieces are no more than 5mm apart.
The sensor element goes on the doorframe to protect the electronics from heavy vibrations
Mounting
Peel the tape cover off the back of the sensor and attach it to the doorframe, then attach the magnet to the door, center-aligning it to the arrow on the sensor.
Resetting
Resetting your Entry Sensor may be needed in order to eliminate abnormal behavior, such as trouble with setup.
Press and hold down the reset button (small ring on the front) for 8-10 seconds
While holding the button down, the LED flashes once, then twice, then continuously. Release the button while the LED is flashing continuously.
Upon release, the LED will show one long flash, indicating the reset is complete.
2 AAA batteries typically last up to 2 years before requiring replacement.
Download the User Manuals